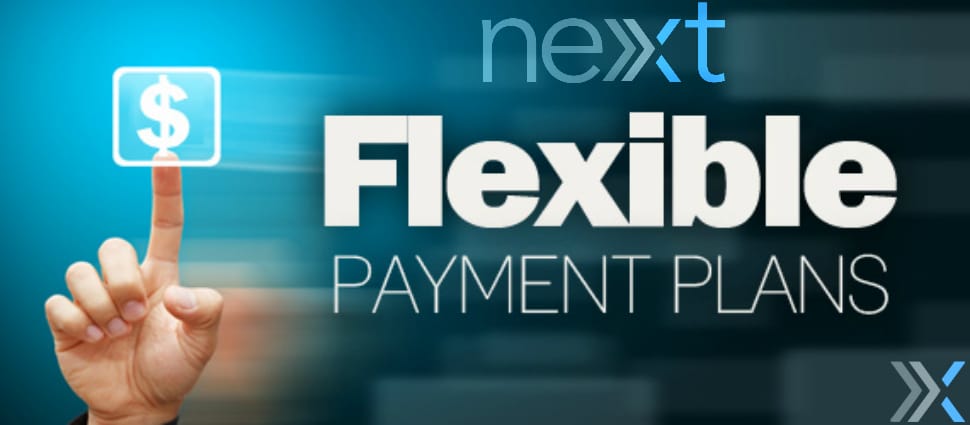 Financing Plans
Next-Financing is a leading provider in Consumer & Patient Financing, offering a wide variety of flexible payment plans for our members. In addition to providing installment / lease credit and private label revolving credit, Next-Financing offers a diversity of credit promotions, thanks to our network of financing companies. Our available financing services not only provide flexible payment plans for your customers and patients, but they also provide our members leverage when it comes to bringing in more sales.
Next-Financing Revolving Credit
Revolving credit financing is one of the easiest, most hassle-­free payment solutions you can offer to potential buyers. It provides flexible and long-­term financing to those who may not be able to achieve funding otherwise. When you offer private label, you create an easy and low-­risk funding solution for both you and your customers. They are also a great way to assure repeat business!
Private label acts as 'grease on the wheels' of the sales closing process. Our large network of Next-Financing consumer financing companies equips member dealers with the necessary tools to make consumer financing an attractive option for their customers.
Next-Financing Revolving Credit options include:
 High credit limits
> Low minimum monthly payments
> No prepayment penalty
> No annual fees
> Prime and 2nd‐Look programs
Installment Financing
An installment contract is a wonderful option to offer your customers during the sales closing process. In simple terms, it is a loan for the full price of a product or service based on repayment at fixed intervals over a certain period of time. The goal of an installment contract is to allow a customer the chance to acquire big-­ticket items they want or need without having to pay up front. This type of loan also allows customers to manage their finances in a predictable and responsible manner.
Upon installment contract approval, your customer is granted physical possession of the product, while agreeing on a set payment plan to pay off the item in full. As long as each payment is received as agreed, installment credit has the potential to boost a borrower's credit score. Payments are fixed and are typically a bit higher than credit card financing, only to ensure that the loan is paid off faster. Most customer credit tiers are considered, and if needed, given further consideration by a lender via 2nd‐Look.
Additional Installment Financing benefits include:
 Available in terms up to 120* months (*with select lenders)
> Competitive interest rates
> High approval rates
> Rapid funding
> Prime and 2nd‐Look programs
> No prepayment penalty
Lease / Rent-To-Own Financing
Leasing is a great option for budget-minded and credit-challenged customers, as it generally allows for a lower monthly payment, a lower or no down payment, and in many cases, are easier to qualify for than an Installment Credit loan.
Since it's a lease and not an installment loan, there is not interest rate to disclose. It's strictly payment-driven, which makes it much easier to close the sale. Most of our lenders have only a $1 buyout instead of Fair Market Value based buyouts, making it much more attractive to your customers.
As an electronics retailer (this applies to many other retailers as well), a lease can be a great way to ensure returning customers by offering lease buy-out programs, so you can upgrade your customer to the newest technology in cell phones, TV's, computers, music systems, etc., to keep them coming back to you year after year or so and eliminate their need to shop around!
Leasing programs are ideal for short-term scenarios, like students, corporate commuters, and military. you can tailor the term of your lease to your scenario, and in some cases, can return your items at the end of your lease, or simply pay out the lease and keep the product. In some cases, leasing may have tax advantages for your customers (consult your tax advisor!).
 Available in terms up to 60 months
> Competitive payment plans
> High approval rates
> Rapid funding
> Prime and 2nd‐Look programs
> No prepayment penalty
Financing Promotions
Next-Financing has teamed up with thousands of Lenders/dealers Nationwide in order to provide our members countless opportunities to offer their customers flexible financing plans and a variety of credit promotions, like:
> No interest / same as cash
> Deferred payment plans
> Interest free
These credit promotions have a proven track record of helping businesses increase sales, competitiveness, and profitability. In addition, they are a great way to implement upgrade options as well as add­‐on sales, giving your customers extra incentive to purchase an item or service.
NO INTEREST PLAN / SAME AS CASH:
This plan gives your customers the freedom to pay the minimum dollar amount per month with no interest for up to one year. Your customers can pay off the balance by year's end, without incurring any interest fees whatsoever. Otherwise, they will continue paying their monthly payment with an established additional interest.
DEFERRED PAYMENTS AND INTEREST:
Finance options like these give your customers a "grace period" or freedom to not make any payments for a certain period of time that is determined by the consumer finance company that approves the loan. After the grace period ends, the contractual payment plan is set into motion along with interest payments. Interest rate pay downs are another option that can be used with or apart from this plan. Customers still have the freedom to pay off the product or service during the grace period to avoid interest rates and other potential financing service fees.
INTEREST FREE:
This is a simple and common financing plan that allows your customers to make monthly payments with no interest for up to 6 months, giving them the peace of mind of making the purchase or contracting your service without having to pay the full amount out-­of-­pocket. This allows for flexible payments with no interest for an established period of time.
Connect with our Large Network of Lenders and give your customers the purchasing power they want and need. CLICK HERE To Become a Next-Financing Member Today.