Come Join Us!

Next-Financing Partner Program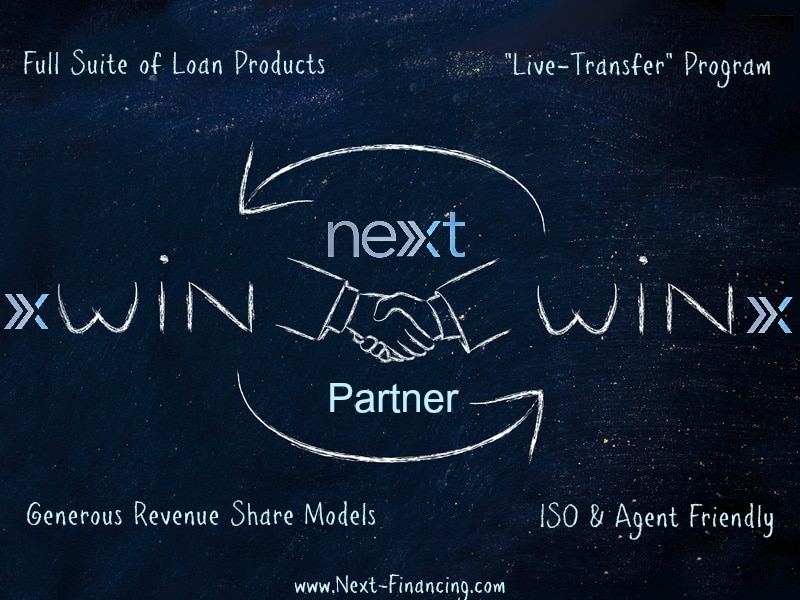 We are looking for like-minded Affiliates, Individual Agents and Sales Organizations, who are interested in partnering with Next-Financing.  Whether you are only interested in working with us on a single product or industry or want access to our full suite of products.  Our core products include Consumer Financing, Patient Financing, Business Loan Products and Payments…… with many more innovative and exciting products around the corner.
To determine which partner program is best for you, check out the options below.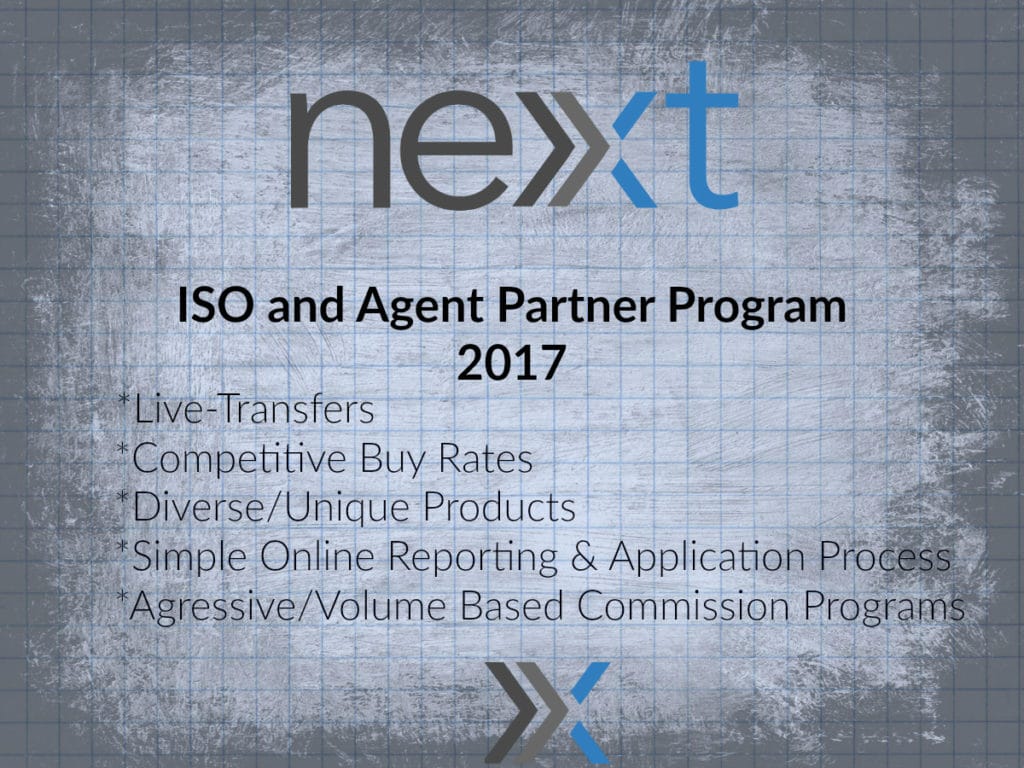 Independent Sales Organization:
Obtain Fast and Simple Funding Solutions for Your Customers While Earning Top Commissions
ISO (or Independent Sales Organization) –  A flexible, versatile small business funding partner is vital in order to drive sales and ensure the success of your business. Next-Financing is fully aware of this. With customized programs designed for your customers' unique challenges, demands and expectations, we are able to deliver a solution for nearly every applicant.  From MCA to SBA, our team's expertise in underwriting, pricing, and a business development, our ISO Partner Program was built with the ISO and Agent in mind.  In fact our ISO program was created by an Executive Team of Current and Former ISO Leaders within the industry, to make sure that everything meets or exceeds all of your needs.
As small business loan brokers, we fund deals up to $500,000 in as few as 2-3 business days and pay top commissions, so you can earn significant revenue while addressing the working capital requirements of your small business customers.  In addition to Tier-1 business loan products, we offer unique products via our Consumer Financing Platform to give you an edge over all of the competition, which is getting thicker every day.  Quality people, ethics, professionalism, High Level Product Offerings and constantly keeping an eye on the future, will keep our ISO Partner Program strong for years to come.
Benefits of partnering with Next-Financing:
 Competitive Buy Rates
 Unique and Quality Product Offerings
 Volume-Based Commission Programs
 Dedicated in-house support for quick application and funds processing
 Simple online reporting and application process
For more information, call 800-605-1821 to speak with a member of our ISO Team, or click here to submit your request for further information.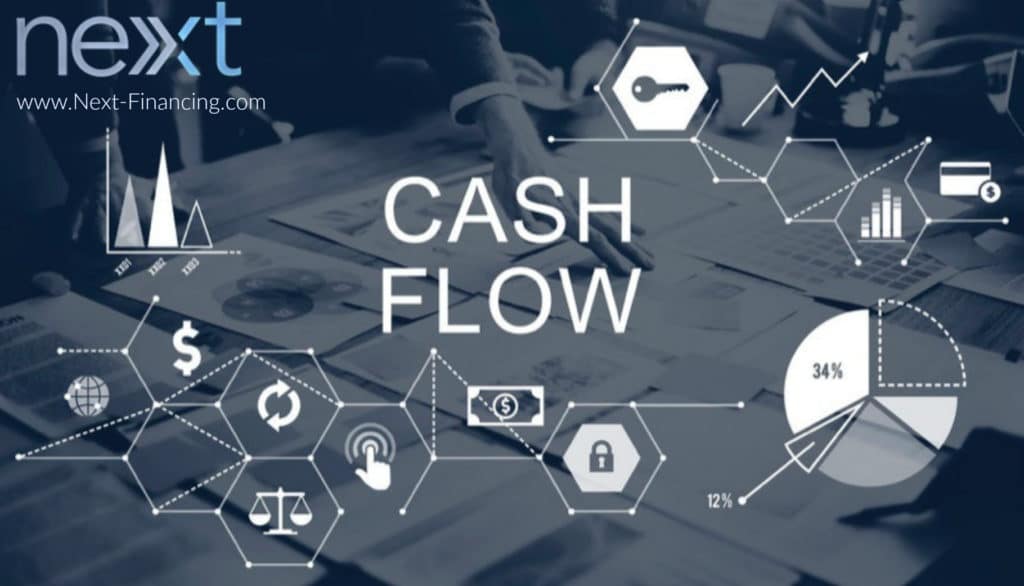 Vendor Financing:
Help Your Clients Buy Your Inventory With Innovative Funding Solutions.
Next-Financing offers unique customer financing options for small businesses.  We can provide suppliers, independent business owners, wholesalers and distributors with Tier-1 business loans. Our diverse and customized options allow your customers to obtain capital promptly, so they can purchase your inventory when they need it. Think of Next-Financing as a tool to help grow your business and leverage our products when the opportunity arises.
With our Vendor Financing Program, You'll not miss out on potential income and you will be paid 100% of your invoice without extending credit to your customers. If your customers are hesitant to use some of the traditional supplier financing options, Next-Financing offers the financial solution they and you are looking for.  B2B or B2C financing is here and customers are now expecting it, so it's time to get with the times and make it easier for everyone to buy your products and services.
Benefits of Vendor Financing with Next-Financing:
 Easy Application Process.
 All credit standings accepted.
 Easy repayment process with fixed daily payments from gross sales or a fixed percentage of credit card sales.
Access to funding in as few as 2-3 business days.
Variety of programs to accommodate an individual business' cash flow needs.
For more information, call 800-605-1821 to speak with Anthony, or click here to submit your request for further information.

Strategic Partners:
Increase Your Sales with Our Simple, Turn-Key Funding Solution.
We understand the frustration when a customer's credit doesn't meet your lending criteria. Whether you're a supplier or vendor, our easy application process, flexible payment terms and quick turnaround ensure that you can reach your sales goals while simultaneously supporting the unique financing needs of your customers. We can help provide them with the small business loans and merchant cash advances they need.
Benefits of being a Strategic Partner with Next-Financing:
 Eliminate or reduce your current credit risk.
 Don't keep chasing payments. Offer financing solutions and stop trying to make everybody happy by being a bank in addition to everything else you do.  Enough is enough.
 This is simple – Increase sales by approving customers who need credit.
 Receive full payment on goods sold to customers.
 We offer Approvals in just a few hours (if all documentation is in order), or up to 2-3 business days for larger purchases or sales contracts.
Simple repayment process, which includes several options for your customers.  Options are always a good thing and your customers will appreciate having those options.
For more information, call 800-605-1821 to speak with a member of our ISO Team, or click here to submit your request for further information.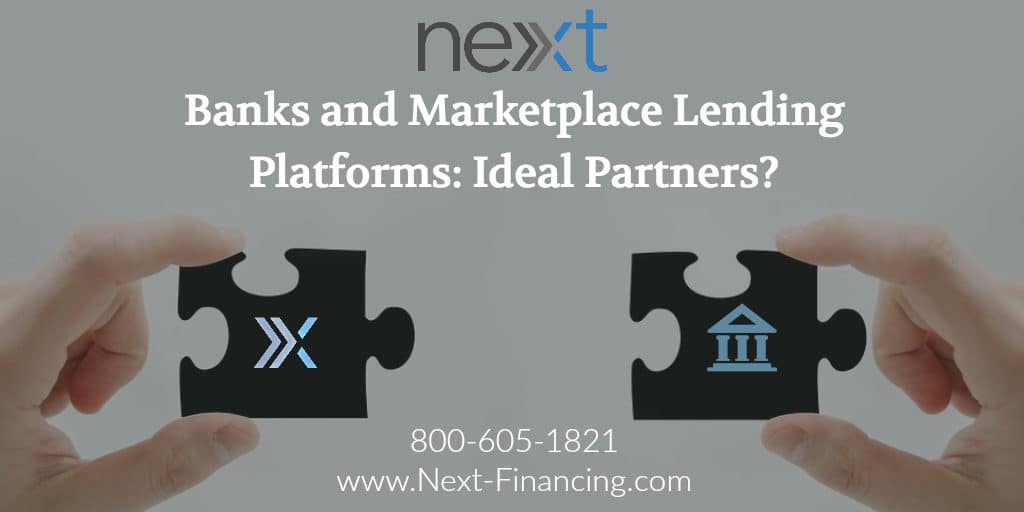 Financial Institutions:  Banks, Credit Unions, Etc.
You Can Now Provide Funding Solutions for Your Credit-Challenged Customers!
Do you have a customer whose current credit situation doesn't conform to your bank or credit union's traditional lending guidelines? Next-Financing can help you when bank financing isn't an immediate option, providing thriving businesses with the capital they need to grow, whatever their business needs may be.  You keep your client happy and growing, so when they need something a little larger that fits your appetite, you will be there to service their needs without skipping a beat.
Benefits To Your Bank, Credit Union or Financial Institution:
All Capital or Funding deposited and payments drawn from the business account at your bank.  We keep the circulation at home.
Eliminate balance sheet exposure or recourse – No more headaches.
We can provide your Qualified Banking Customers with Funding Solutions up to $500,000.
 Fast-Accelerated Approval Process with funding in as few as 2-3 business days.
For more information, call 800-605-1821 to speak with a member of our ISO Team, or click here to submit your request for further information.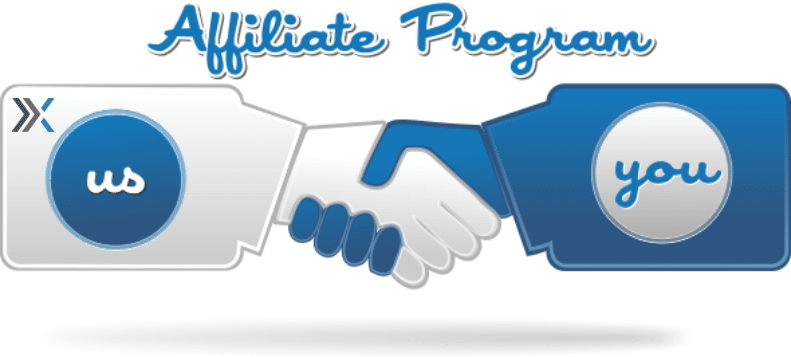 Affiliate Program:
The Next-Financing Affiliate Program allows members to earn commissions when they refer customers to us through various methods, such as online marketing, link placement, email marketing and phone marketing.  The program is simple; if the client you refer completes our form and meets the qualifying parameters for one of our loan products and gets funded, you earn a generous commission. We also understand that a phone call is difficult to track so we take every step that is possible to ensure that our affiliates receive their referral fees. We will give the benefit of the doubt to any member of our affiliate team if even the smallest possibility suggests that they may have referred a qualifying client who called our company.  Nothing is perfect with the various channels of communication, but we would rather error on the side of trust, rather than lose a good teammate.  On average, our Affiliate Marketing Team Members earn 1% – 2% of the total loan/advance amount for every funded loan they generate.  We're proud to have the most generous Business Loan/Advance Affiliate Program in the industry.
For more information, call 800-605-1821 to speak with a member of our Marketing Team, or click here to submit your request for further information.