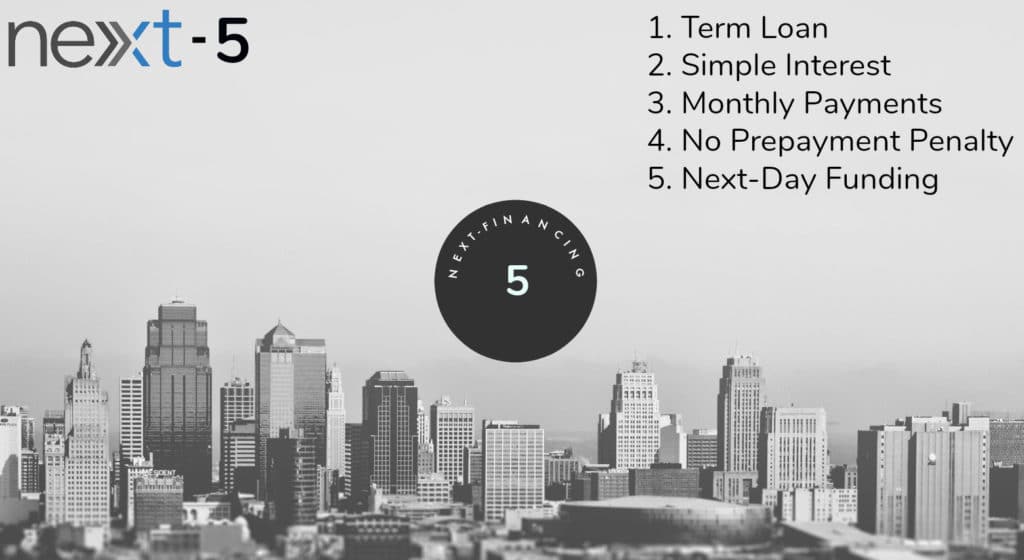 Next-5 Term Loan
Next-Financing offers business owners Simple Interest Term Loans. With low Monthly ACH Payments, longer loan terms and no pre-payment penalty, Next-Financing can fund a business owner as soon as the next day.  You've been asking, so here's your Easy Qualify / Monthly Payment Business Loan.
Top 5 Highlights
 Broad Business Types: Next-Financing does not have a restricted merchant list. We welcome all "For Profit" businesses. From traditional retail stores to online and home-based businesses, Next-Financing can fund them all*. The business must be opened for 3+ months with an active business bank account and the owner must have a 500+ FICO.
 We Lend Businesses More: We fund businesses up to 4x their gross monthly business income with loan  sizes ranging from $3,500 to $75,000. We count all business income from credit card transactions, cash and  check transactions.
 Affordable Payments: Loan terms from 24 to 120 months make the monthly payment affordable. With  fixed monthly ACH payments, borrowers no longer have to worry about daily re-payment schedules.  Annual  Interest Rates from 14.9%.
 No Pre-Payment Penalties: Businesses can pay off as soon as they'd like, allowing them to save on interest  and renew faster.
 Same Day Funding: Best of all, these loans can be funded in as soon as 4 hours! ** Now that's fast funding!
Every business is different, so we want to make sure we are providing a solution that fits each individual business, owner and situation.  We are not a financing company that is interested in forcing a single product down your throat or not being flexible to your needs.  A simple 5-10 minute conversation will allow us to understand what you're trying to accomplish, which will then allow us to cater to your needs.  We look forward to working with you!
How To Get Started:
 Contact Next-Financing at:  http://eepurl.com/c6CO2T
 We will discuss the needs of your businesss and provide instructions.
 Expect to provide the 3 Required Supporting Documents for this loan product:  3 Months Bank  Statements, Driver's License & Voided Business Check.
 Underwriting Phone Call.  Once the supporting documents have been submitted, you will receive an underwriting phone call.  We can only speak to the Owner/Borrower applying for the loan.  We cannot speak to their spouse, power of attorney, office manager, relative, etc.  25% ownership is required and we can take applications with each owner if needed.
 Fund Your Account!  Get Your Monthly Payment Business Loan Today!