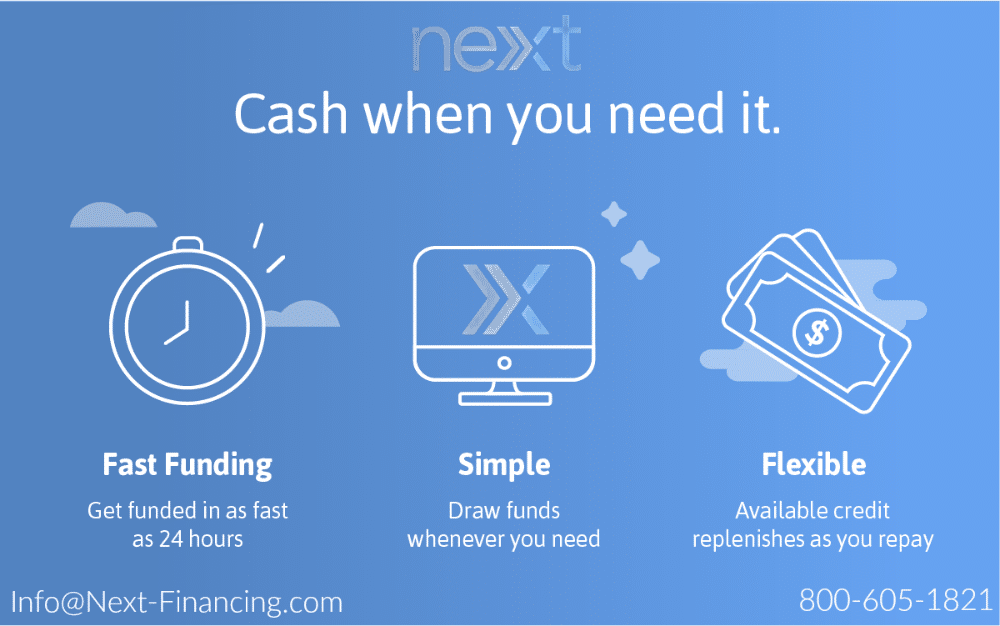 Business Line of Credit / Asset Based Line of Credit
Manage your business with lines up to $500,000 and APRs as low as 9.99%
Flexible Working Capital – When You Need it:
How it works:  Draw the cash you need directly into your business checking account at any time. Only pay interest on what you draw. Pay back your balance early any time.
Use your line of credit to:
Manage accounts receivable gaps
Take advantage of new opportunities
Manage unexpected expenses
Because of the cyclical nature of business, you may need to borrow money to meet your short-term needs or goals. One commonly used option to obtain these funds is by securing a line of credit.
A line of credit is an arrangement with a financial institution that establishes a maximum loan the lender will allow the borrower to take. You can withdraw any increment from the line of credit at any time, as long as you don't exceed the maximum set in the agreement.
A business line of credit is similar to a credit card, since you use it as you need it. You make payments on a regular, predetermined schedule, and you can borrow or use more as your principal is paid down.
How can I use a line of credit?
Many businesses utilize business line of credit loans to increase their working capital. Using this type of loan is a great way to bridge the gap between the tasks you need to do and the cash flow you need to get them done.
Lines of credit are mainly to help even out your cash flow. A line of credit loan is typically used for short-term working capital needs like covering payroll when you hire new employees; purchasing inventory during a busy season or to fulfill a larger order; or offsetting seasonal lapses in cash flow.
Is a line of credit loan a good fit for my business?
While it's ideal to have savings to help your business weather storms, the next best thing is to apply for a line of credit. Business credit lines were designed to help you meet short-term cash needs, such as purchasing supplies or additional inventory or covering operating expenses. Essentially, a business line of credit can help small businesses thrive and grow.
A business line of credit is a good option to offset fluctuations in working capital when your expenses stay constant. A line of credit will give you access to funds to continue to pay bills on time or purchase additional inventory if needed.
The advantage of a line of credit over a regular business loan is that interest is only charged on the funds you actually use. Additionally, your business can draw on the line of credit at any time that you need.
Product:
*Credit Line approvals up to $5 Million
*Interest Rates from 10.9% – 19.9% – Your line amount and rate will be based on our assessment of your business along with your business and personal credit.
*Fixed Weekly Payments – Automatically deducted from your business bank account, so you don't have to worry about missing due dates.
*Your business may qualify for Monthly, Interest only payments.
Qualifications:
*Been in business for 12+ months
*600+ Credit Score
*Annual Gross Revenue – $150K+

Accounts Receivable Line of Credit
Asset Based Line of Credit
We're pleased to announce the launch of Next-Draw, a new Line of Credit product, which was a product constructed to serve clients that don't invoice or don't use accounting software.
With Next-Draw, we underwrite using bank account data instead of accounting software data – a client just needs to login using their online banking credentials with any of our 12,000+ supported banks across all 50 States.
With Next-Draw, our clients will also enjoy many of the same benefits of our original Invoice Financing product, including:
No soft or hard FICO pull to get started
Fully automated, fast application—credit decision in hours
Funds available as soon as next business day
Our clients will now have the option of accessing funds through either Invoice Financing or Next-Draw when they create their new account, by connecting either their accounting software or their business checking account during their application.  If everything else fails, an Asset Based Line of Credit is a great way to fund any new project or opportunity.